County Highway Maps, Plots Guide, and Aerial Photos
County Highway Maps- D.O.T.
The North Dakota Department of Transportation publishes county highway maps which show all school trust lands. These maps also show landmarks such as churches, cemeteries, schools, towns and railroads which make finding the school trust lands a simple process.
County highway maps are available in two scales.
Either scale map is available by calling 701-328-2518 or writing to: ND Department of Transportation, Mapping Division, 608 E Boulevard Ave., Bismarck, ND 58505-0700.
Maps can be purchased on line.
While most lands are open to non-vehicular public access, a few are posted.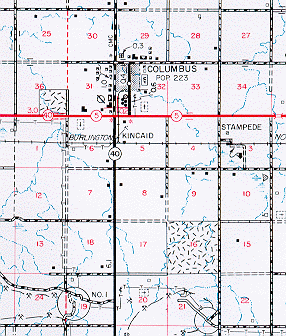 State School Land

---
Plots Guide - Game and Fish Department
The North Dakota Game and Fish Department annually publishes a map book of North Dakota showing public lands and state school trust lands. This guide also shows cities, highways, county roads, rivers, lakes and streams. The Plots Guide is available free of charge at numerous locations throughout the state. To view the Plots Guide on-line or to locate a place near you where you can pick up a guide, visit gf.nd.gov/maps/department-maps-and-resources .
---
Aerial Photos of School Trust Lands
View and print aerial photographs and GPS corners of your favorite school trust lands. School trust lands are mapped on color aerial photography with latitude and longitude of the section corners or you can download only the outlines of the school trust lands with the section corners marked by latitude and longitude. All maps will work with a dial up connection.
Select maps to download
.